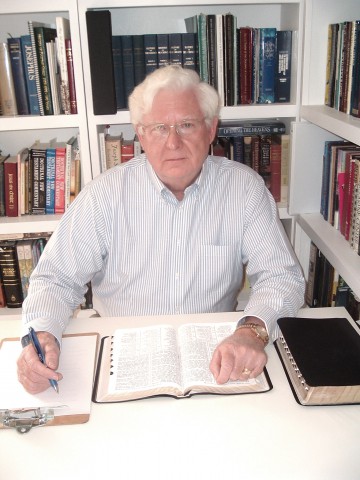 Thomas E. Johnson was born in Nephi, Utah. He was baptized a member of The Church of Jesus Christ of Latter-day Saints when he was eight years old. His ancestors had been members of that Church for several generations and some had walked across the central U.S. plains from Illinois to Utah during the 1850's.
Tom did well in school and his early interests were in science, including chemistry, electronics, and physics. However, when he was a senior in high school, while sitting in his physics class, the thought came to him that he would become a lawyer. This was startling since he had no one in his family who was a lawyer and he knew nothing about the field of law. Consequently, when he enrolled in Snow College, his advisor urged him to pursue a double-major in law and chemistry, just in case he decided that he didn't want to become a lawyer. This continued for two years until Tom settled definitely on preparing to go to law school.
In the meantime, Tom had become inactive in the Church and had turned down an invitation to serve a mission for the Church on the basis that he could not go out into the world and tell people the Church was the only true Church if he did not have that conviction himself. During this time period Tom also played in a rock and roll band. Tom finished his four year Bachelor of Science degree at the University of Utah, majoring in Economics and International Relations.
When he graduated from the University of Utah he moved to New York City and worked for Dreyfus Mutual Fund; however, after nine months he left New York to go to Chicago where he had been admitted to Northwestern University Law School. During his first year of law school he was invited to and attended the Church congregation in the inner-city of Chicago. It was there he began to have many important spiritual experiences and gained a testimony that The Church of Jesus Christ of Latter-day Saints is God's true church on the earth. Consequently, at the urging of a Church member, he decided to apply to become a missionary for the Church and submitted his papers, although he was older than the regular missionaries. Tom was called to and served in central Japan for two years.
After returning from his mission Tom re-entered law school. He also married Norma Christensen from Fairview, Utah. After law school he joined Baker & McKenzie, the world's largest law firm, in their head office in Chicago. Eventually, he was elected a partner and concentrated his practice in international trade and investment. Three years after graduating from law school he was called as the bishop of the Chicago First Ward. During the next seven years he served as bishop and he and his wife had five daughters. After he was released as a bishop he served as a High Councilor in the Wilmette, Illinois Stake. Later, he served as counselor to the Stake President for three years and then became the Stake President where he served for five more years.
During that time and for twelve years he and his wife owned and operated the New Words of Wisdom bookstore, a bookstore specializing in LDS and religious books. Eventually, he resigned from Baker & McKenzie and joined Sanders, Travis & Rosenberg, a specialty customs and trade law firm in Chicago.
After Tom retired from the practice of law Tom and Norma moved to Gulf Shores, Alabama, where they spent their winters and to Telluride, Colorado, where they spent their summers. Tom began writing books about religion. After five years they moved back to Utah to help take care of Tom's elderly parents. Tom has renewed his interest in playing guitar and plays music with other local musicians. Tom continues to serve in various Church callings and to study and research the gospel and seek for further light and knowledge. He hopes his books will be influential to his posterity and a wide audience.